Tuesday, June 9, 2009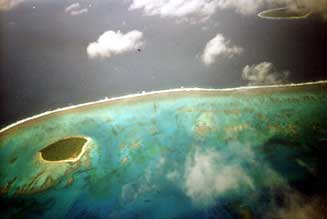 Jon Thomson (born 1969) and Alison Craighead (born 1971) are London-based visual artists, who have been working with video, sound and the internet since 1993.
Much of their work to date explores how technology changes the way we perceive the world around us. They use

live data to make artworks

, including "template cinema online artworks" and gallery installations, where networked movies are created in real time from online material such as remote-user security web cams, audio feeds and chat room text transcripts.
-
wiki
I think their work is very clever and addresses a lot of issues surrounding technology and how technology has changed the way we relate to the world. One example of this
Light from Tomorrow
where light readings from Tonga were beamed in real-time back to California. And when I say back, I don't just mean relayed, I mean sent BACK in time due to the fact that the two locations are in different time zones.
As they describe it:
We think of the gallery component of this artwork as a romantic landscape, which is both minimal and monumental; a space for contemplation, a poetic void and an experiment in time travel.
It is part of a body of work we are making that explores our relationship
with simultaneous global communications systems and time; a series of artworks that sculpt with time in real time.

-
Thomson & Craighead
Posted by

Lucinda
at 8:05 AM
No comments:

Tuesday, June 2, 2009
Well, not actually anything to do with either the movie or the book - here's a drawing I did in class when my attention wandered. So not really something from a course, but kind of is (if I hadn't been at school, would I have drawn this? who knows)
Posted by

Lucinda
at 7:58 PM
No comments:

Well, it was going to be five photos, but my battery on my camera had a wee die. So I'll update this again when I've got it working. In the mean time, here are
Five Digital Things that I have Found to be Essential to my Ongoing Cheerful Existence
.
1>
My sweet laptop
. Sweet as in ridiculously cheap (thanks to my boyfriend for throwing it down some stairs and getting a replacement, giving me the munted one that still works ok if you don't need to use CDs or the headphone jack). My desktop is from
KitsuneNoir
and made by the artist
Thomas Allen
takes photos of pulp-fiction book cover cutouts. They are so good.
2>
iPod
. This is a newish one with the awesome shake-to-shuffle feature which is great when stationary, not so great if you're dancing around and it shuffles mid-song.
3>
Card reader
. Seriously, this is one of the best purchases I have EVER MADE. EVER. It comes in handy all the time and turns my mega 4GB compact flash cards into USB sticks when I need to haul data from place to place.
4>
Scanner
that I bought online for cheaps. It's USB powered and very slim so storing it is a breeze. If you've ever thought about getting one, but thought it'd be too 'spensy, you should keep an eye on
the scanners section on trademe
. All I'm saying.
5>
External Hard Drive
. I take a lot of photos in RAW, as well as having done a very computer centric design degree meaning that this puppy is full to exploding with all kinds of creative digital jizz. It needs a clean out and I need to get it a new friend to take on some of the new stuff I want to make and the overflow from my laptop which is starting to get mighty congested.
HONOURABLE MENTION THAT SORT OF GOES WITHOUT SAYING
:
My digital SLR camera
. Ooh baby, you're so good. I'm so glad I got insurance on your predecessor so that when it was stolen, I got you (because point and shoot just doesn't cut the mustard as effectively).
Posted by

Lucinda
at 6:58 PM
No comments:

Monday, June 1, 2009
This is an image I found on
Flickr
by the user
PixelAddict
under a Creative Commons Attribution Licence. This means that I can effectively do anything I like with the image (share it, copy it, print out a copy for myself, use it in my own work), so long as I attribute it back to the original author.
I think that I can also use this for commercial work if I wanted to make an ad with an otter getting a manicure.
Posted by

Lucinda
at 3:54 AM
No comments: