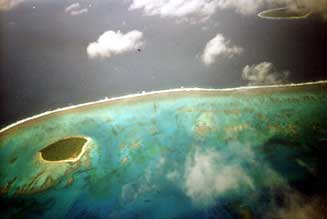 Jon Thomson (born 1969) and Alison Craighead (born 1971) are London-based visual artists, who have been working with video, sound and the internet since 1993.
Much of their work to date explores how technology changes the way we perceive the world around us. They use

live data to make artworks

, including "template cinema online artworks" and gallery installations, where networked movies are created in real time from online material such as remote-user security web cams, audio feeds and chat room text transcripts.
-
wiki
I think their work is very clever and addresses a lot of issues surrounding technology and how technology has changed the way we relate to the world. One example of this
Light from Tomorrow
where light readings from Tonga were beamed in real-time back to California. And when I say back, I don't just mean relayed, I mean sent BACK in time due to the fact that the two locations are in different time zones.
As they describe it:
We think of the gallery component of this artwork as a romantic landscape, which is both minimal and monumental; a space for contemplation, a poetic void and an experiment in time travel.
It is part of a body of work we are making that explores our relationship
with simultaneous global communications systems and time; a series of artworks that sculpt with time in real time.

-
Thomson & Craighead